fp

NATURAL

®

Powders

IR‑FLUORESZIERENDES FINGERABDRUCKPULVER

Kontrastreiche Fingerabdrücke sichtbar machen und dabei die Hintergrundinterferenz unterdrücken

Trotz der großen Anzahl an derzeit verfügbaren Fingerabdruckbehandlungen sind Ermittler bei einigen "schwierigen" Substraten oft frustriert.
Bunte und dicht gemusterte Hintergründe, reflektive Metallflächen und Substrate, die bei der gleichen Wellenlänge wie übliche fluoreszierende Fingerabdruckbehandlungen fluoreszieren, können das erfolgreiche Verarbeiten von Fingerabdrücken verhindern. Durch das Abpudern mit den fluoreszierenden Infrarotpulvern fpNatural® können Interferenzen entfernt und kontrastreiche Abdrücke gewonnen werden.
Von der Natur inspiriert
Die Fluoreszenzeigenschaften von Pflanzen und Mineralien unter IR erforschen
Bei der Suche nach Materialien, die unter IR fluoreszieren, ließen wir uns zunächst von der Natur inspirieren und testeten zahlreiche Pulver auf Mineralien- und Pflanzenbasis auf ihre Eignung. Mit einer modifizierten Mischung aus Cyanobakterien und einem kräftig blauen Mineralpigment, das als Ägyptisch Blau bezeichnet wird, wurden hervorragende Ergebnisse erzielt.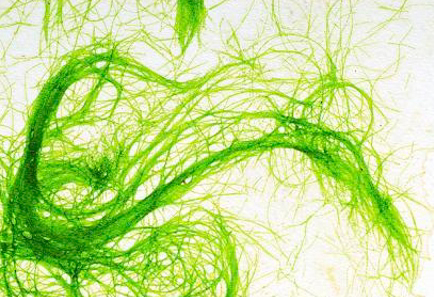 fpNATURAL® 1, ein fluoreszierendes Pulver auf Pflanzenbasis
Cyanobakterien gehören zu einem Bakterienstamm, der seinen Namen aufgrund seiner blaugrünen Farbe erhielt. Cyanobakterien werden auch oft als Blaualgen bezeichnet und umfassen etwa 2 000 Arten; die perfekte Mischung daraus erfüllt sämtliche Anforderungen zur Herstellung eines idealen IR‑Fingerabdruckpulvers:
+ Gibt unter blauer bzw. roter Beleuchtung helle IR‑Fluoreszenz ab
+ Ist reich an IR‑fluoreszierendem Phycocyanin und Chlorophyll
+ Ist ungiftig, sicher in der Handhabung und kann mit einem Zephyrpinsel aufgetragen werden
fpNATURAL® 2, ein fluoreszierendes Pulver auf Basis von Mineralpigmenten
Ägyptisch Blau, das auch als Calcium-Kupfer-Silikat oder Cuprorivait bezeichnet wird, ist am besten für seine Nutzung bei altägyptischen Kunstwerken an Statuen, Grabgemälden und Sarkophagen bekannt. Ägyptisch Blau ist ein hellblaues Pulver, das bei Betrachtung im sichtbaren Spektrum unter Beleuchtung mit sichtbarem oder Nahinfrarotlicht eine starke Nahinfrarot-Fluoreszenz aufweist. Die Ägyptisch-Blau-Mischung fpNATURAL® 2 bietet dem Fingerabdruckgutachter einzigartige Vorteile:
+ Gibt unter Beleuchtung mit Nahinfrarot Fluoreszenz ab
+ Produziert eine deutliche hohe Quantenausbeute von über 10 %
+ Eignet sich ideal für versteckte Anwendungen (kann im Nahinfrarotbereich stimuliert werden)
Beleuchtung und Bildverarbeitung
IR‑Bildverarbeitungssets für Einsteiger und Fortgeschrittene für Tatort und Forensiklabor.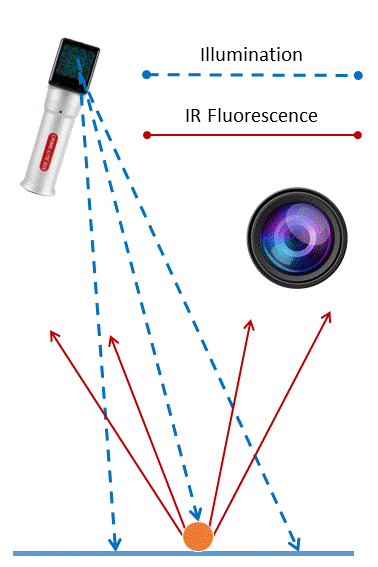 Bildverarbeitungssets fpNATURAL® 1
fpNatural 1 wird über "sichtbare" Beleuchtung im blauen oder roten Wellenbereich stimuliert und gibt "unsichtbare" Infrarot-Fluoreszenz ab.
Bildverarbeitungssets fpNATURAL® 2
fpNatural 2 wird über "unsichtbare" Nahinfrarotbeleuchtung stimuliert und gibt "unsichtbare" IR‑Fluoreszenz ab.
fpNATURAL®1 Imaging Kits
fpNatural 1 is stimulated using 'visible' illumination in the blue or red wavebands and emits 'invisible' infrared fluorescence.
fpNATURAL®2 Imaging Kits
fpNatural 2 is stimulated by 'invisible' Near-IR illumination and emits 'invisible' IR fluorescence.
Visualisation and Image Capture Kits
IR fluorescence emitted by fpNatural is not visible to the naked eye and can only be viewed via an IR sensitive camera.
Beeindruckende Ergebnisse